If you need to convert a video file, no matter where you get it from, a software like XMedia Recode can be extremely useful. With a really simple interface, the quantity of options that are offered and simple intuition will help us to obtain a video that is totally adapted to our necessities.
As well as extracting the audio and the video from any DVD, XMedia Recode allows to convert it to the formats that we want and even recode it to optimize its visualization on different devices. The quantity of gadgets with which XMedia Recode is compatible is extremely big, managing to optimize the resulting file both for netbooks as well as iPods and even iPads.
Of course, any configuration can be manipulated by the user before starting to convert it, it is possible to change the resolution, the bitrate and the framerate, or the audio format, all this with simple pull-down menus that will show us all the options that are available and will find the incompatibilities so that there aren't any errors.
The formats with which XMedia Recode is compatible are: 3GP, Matroska(MKV), 3GPP, 3GPP2, AAC, AC3, AMR, ASF, AVI, AVISynth, DVD, MOV, FLAC, FLV, H.261, H.263, H.264, M4A, M1V, M2V, M4V, MMF, MPEG-1, MPEG-2, MPEG-4, TS, TRP, MP2, MP3, MP4, MP4V, QT, OGG, PSP, (S)VCD, SWF, VOB, WAV, WMA and WMV.
Note: It works on Windows XP or above, can only convert unprotected DVDs.
XMedia Recode converts: 3GP to AVI, 3GP to FLV, AC3 to MP3, AC3 to WAV, ASF to 3GP, ASF to FLV, ASF to MP4, AVI to FLV, AVI to 3GP, FLAC to MP3, FLAC to WMA, FLV into 3GP, FLV to Mp3, DVD to 3GP, DVD to AC3, DVD to AVI, DVD to MP3, DVD to MP4, DVD to MOV, DVD to SVCD, DVD to VCD, DVD to WMV, OGG to MP3, OGG to WMA, MPEG to AVI, MP2 to MP3, MP4 to FLV, MP4 to AVI, M4P to MP3, MOV to 3GP, MOV to AVI, MOV to FLV, WMA to MP3, WMV to FLV, WAV to MP3
To use the DivX codec, you need to have the DivX codec installed.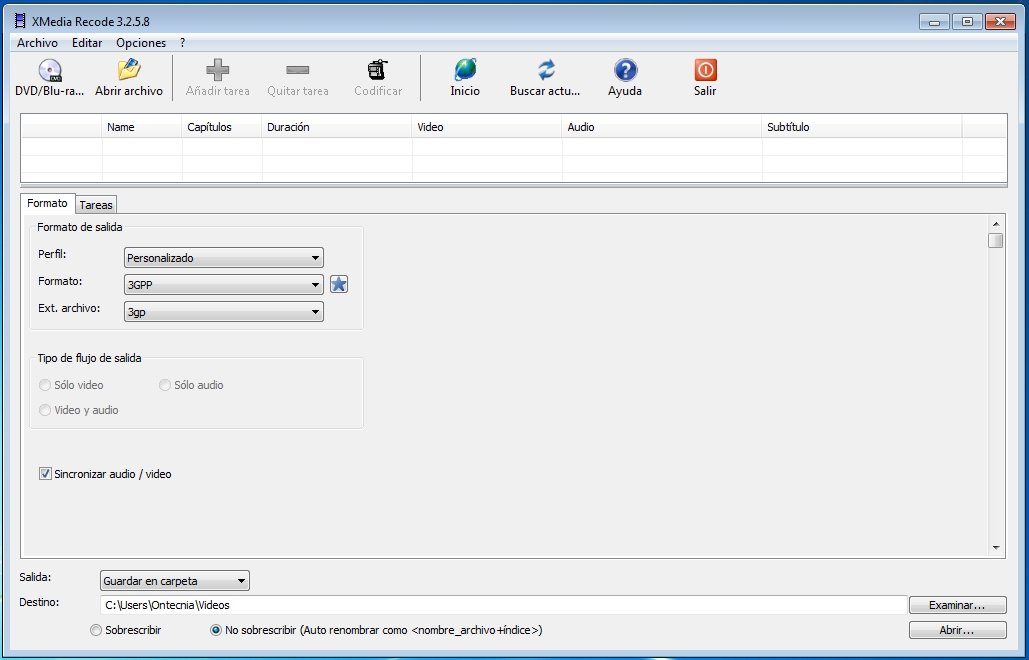 Features:
Video Editing
Parts of the video cut off (crop)
With freely selectable frame color (padding)
Color Correction (brightness, contrast, gamma, hue, saturation)
Drag-n-drop of video directly on the encoder
Selecting the picture size (1:1, 3:2, 4:3, 5:4, 5:6, 11:9,16:9, 16:10, 2.21:1)
Zoom (no letterbox, the media, Pan Scan, Fit to Screen)
Direct Stream Copy function
2-Pass Encoding
Volume correction
Volume Normalize
Framerate, bitrate, resolution can be adjusted
Can stream audio from most video formats, extract
Creates DVD copies of the Pocket PC
Creates DVD copies for your mobile phone
Creates DVD copies for the iPod and iPhone
Creates DVD copies for the PSP and PS3
What´s New in version 2.2.9.7:
update of ffmpeg (26 057)
Updated x264 (1834) Codec
new sections (Vodafone)
Limitations
Bitrate Calculator does not allow to choose the number of channels for audio tracks (defaults to Stereo)
The Bitrate-Calculator does not exceed 10,000 video bitrate if a filesize is chosen that requires a bitrate exceeding 10,000. However, the bitrate can be manually adjusted above 10,000 and the filesize will change accordingly.
System-wide brightness, contrast and color adjustments for videos (from Nvidia or ATI Control Panel) will be detected by XMedia Recode during the Preview and those adjustments will be hardcoded into the output file.
Does not support conversion to uncompressed video but does, however, support conversion to various lossless codecs (e.g. Huffyuv, MPEG-4 AVC Lossless)
Audio Tracks default to stereo regardless of the number of Source channels.
Lack of documentation for codec options (hover tooltips)
A default framerate of 25 is chosen for the Custom Profile, when in most cases it is not necessary to change the framerate of the source video. XMedia Recode does not check the framerate of the source video and configure it accordingly. Furthermore, most Profiles default to a framerate of 25 in situations when the framerate of the Source video is appropriate for the device.
Many settings for Profiles are locked down (e.g. File Extension, Video codecs, Audio Codecs) and are therefore at the discretion of the XMedia Recode developer.
Unable to add additional jobs or access the main interface while transcoding is in progress.
No video Rotation
Unable to add video & audio tracks or subtitles from external files.
Does not allow to permanently modify or amend existing Profiles from the XMedia Recode GUI. They must be modified via notepad, which is unintuitive and error prone (resulting in program crashing upon startup).
The uninstallation wizard for XMedia Recode leaves behind files and registry entries which are important if a user is attempting to reinstall the application to fix some issues. Therefore, a third party uninstall utility (e.g. Revo Uninstaller) must be used to fully remove all leftover files.
Custom framerates are unsupported.
See Also: